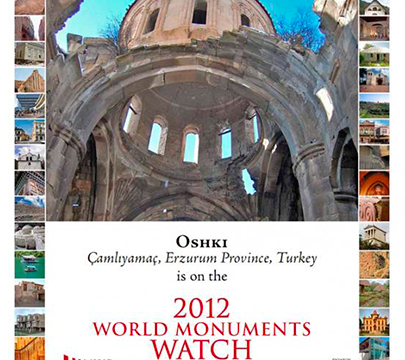 The church of Oshki, one of the most important monuments of the medieval Georgian culture, is on the 2012 Watch list of the World Monument Fund. Oshki is located in historic Tao-Klarjeti (present Turkey). Special page was created on the website of the Fund: http://www.wmf.org/project/oshki. 
World Monuments Fund (WMF) is an international, non-profit organization dedicated to the preservation of historic architecture and cultural heritage sites around the world through fieldwork, advocacy, grantmaking, education, and training. Founded in 1965, WMF is headquartered in New York. Every two years since 1996, WMF publishes the World Monuments Watch list, which aims at calling international attention to cultural heritage around the globe that is at risk. Inclusion on the list provides nominators and site owners with an important opportunity to promote their sites locally and internationally, to work towards improved site-protection, and to build community engagement in their preservation efforts.
In October 2011, WMF released its 2012 Watch list of 67 sites and monuments in 40 countries. One of them is the church of Oshki. The speaker of the project is Irine Giviashvili, a researcher from the George Chubinashvili National Research Centre for Georgian Art History and Heritage Preservation. The application was prepared with the assistance of David Khoshtaria and Markus Bogisch.
On October 12, 2011, the George Chubinashvili National Research Centre held a special press conference to inform the media about the decision of the Fund.