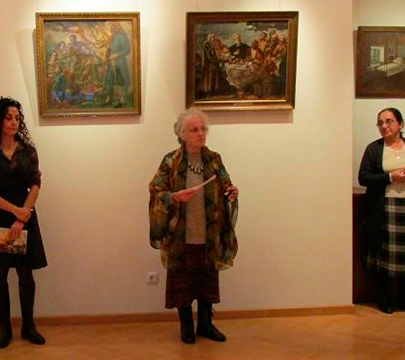 An exhibition "Akaki in the Creative Works of Georgian Artists" dedicated to Akaki Tsereteli's 175th anniversary of his birth and 100th anniversary of his death was held in the exhibition hall "Ars Georgica" of the G. Chubinashvili Centre on 11-25 November, 2015.The project was carried out by the George Chubinashvili National Research Centre for Georgian Art History and Heritage preservation, financed by the Ministry of Culture and Monument Protection of Georgia and supported by UNESCO.
The exhibition presented pieces of art from the funds of the Shalva Amiranashvili Art Museum and the Dimitri Shevardnadze National Gallery, as well as the works from the George Leonidze Georgian Literature Museum and private collections.
Analyzing the exposition material it became clear to scientists, artists and the society in general that unfortunately, Akaki Tsereteli occupies comparatively modest place in Georgian art history. However, pieces of art presented at the exhibition give the viewers a good opportunity to become acquainted with an absolutely unique material. There were exhibited paintings and easel drawings executed by different artists in different times and samples of book illumination. Among others there were the works of Gigo Zaziashvili, Karapet Grigoriants, Oscar Schmerling, David Kakabadze, Valerian Sidamon-Eristavi, Shalva Kikodze, Ucha Japaridze, Ekaterine Bagdavadze, Tamar Abakelia, Nina Tamamsheva, Alexandre Tsimakuridze, Merab Durglishvili, David (Duda) Gabashvili, Vladimer (Lado) Grigolia, Levan Tsutskiridze, Radish Tordia and Keti Matabeli. Also, there were exhibited works of the less famous illustrators – Temur Pkhikidze and Levan Silagadze. Original works of two artists – Tedo Rekhviashvili and Mirian Chankvetadze, who illustrated Akaki's new jubilee collection (Akaki Tsereteli, Collection, Tbilisi, 2015) were presented to the public for the first time.