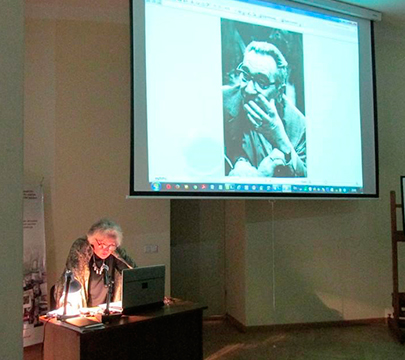 On December 24, 2015 a project "Inventory of Sergo Kobuladze's Atelier and Preparation for its Transportation to Tbilisi State Academy of Art" was presented at the conference hall of the George Chubinashvili National Research Centre for Georgian Art History and Heritage Preservation. The project (12.IV-12.VII.2015) was implemented with the support of Ministry of Culture and Monument Protection of Georgia and implied organizing Sergo Kobuladze's memorial study at Tbilisi State Academy of Art, although so far only the artist's etching press has been carried to the Academy.
The main idea of the presentation was showing the results of this project, presenting the importance of the discovered material and planning future investigation of the artist's creative heritage.
The presentation was led by the head of the contemporary art department of the Centre Ph.D Mariam Gachechiladze, who was the supervisor of the project. The other members of the project were:.Junior researchers Tamar Belashvili, Sophio Chitorelidze and Nodar Aronishidze.
Along with the presentation a two-day exhibition named "An Unknown Sergo Kobuladze" was arranged in the exhibition hall "Ars Georgica" of the Centre. There were displayed unknown pieces of art of the artist: sketches, compositions, theatre decorations and theatre costumes and so on.
The presentation of the project showed that Sergo Kobuladze's creative heritage needs further investigation. At the first stage – during 2016 it is desirable to prepare an album-catalogue "An Unknown Sergo Kobuladze" for edition. It is also planned to present the album at the artist's retrospective exhibition where there will be gathered the artist's famous and so far unknown works as well.
The presentation was attended by the representatives of Ministry of Culture and Monument Protection of Georgia, representatives of Museum and Monument Protection Agency and members of society interested in art.