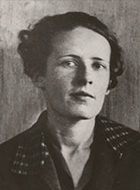 (1901, Tbilisi – 1967, Tbilisi) 
Art Historian, famous scholar of the Georgian art; Prof. Dr. (1966). She was born in Tbilisi and lived all her life here; her activities were linked with Georgia and Georgian art. Having graduated from the Tbilisi Academy of Arts (1929), she worked at the State Museum of Georgia and since 1941 was the senior researcher of the Institute of History of Georgian Art. She is the author of fundamental monographs on the medieval Georgian architecture and architectural sculpture, old Georgian plastic art and medieval book illumination. She also studied problems of the Georgian palaeography and published guidebooks on the architectural sites of Georgia.  
Schmerling's works are characterised by the thorough, comprehensive research of each monument and superb stylistic analysis. She had doubtless literary talent, which also distinguishes her writings. R. Schmerling was a fanatic of her work. She had visited almost every region of Georgia, making thorough records and sketches in her notebooks; she had organised several expeditions to Svaneti, Dagestan, etc. Collaboration with her was always interesting for her colleagues and most beneficiary for the young scholars. Having worked 26 years at the Institute, R. Scmerling had greatly contributed to its activities and Georgian art historical field. Her works occupy a significant place in the scholarly literature on Georgian art.