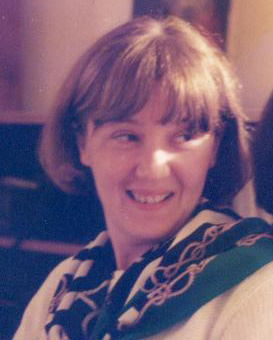 Art Historian, Chief Researcher of the Centre, Ph.D. 
Research field: History of the medieval fine art. 
Activity: Lectures on the Paleologan mural painting in Georgia at the Tbilisi Academy of  Arts. 
Address: 1, Aragvi str., Tbilisi.   
Significance of the Painters' Inscriptions for the Study of the Medieval Georgian Murals Painting, Georgian Antiquities, 20, Tbilisi, 2017
Donors and Painters of St. John the Evangelist Church in Bobnevi and the Sanctuary Barrier of the Magaladze-Church in Tsinarekhi, 2nd International conference: Georgia-Byzantium-Christian East, Tbilisi, 2019, Abstracts
The Jakeli Portraits, Georgian Antiquities, 18, Tbilisi, 2015, (in Georgian, English résumé)
Medieval Georgian Wall Paintings, Icons, Enamels, Manuscript Illumination, in: Georgian Art, Chveni Girsebani, vol. 7, Tbilisi, 2015 (in Georgian)
Murals of the Church of the Rkoni Fortress, Ancient Art Today, 5, Tbilisi, 2014, (in Georgian, English résumé)
The Murals of St. George's Church at Abastumani, in: The Akhaltsikhe and Tao-Klarjeti Eparchy, Tbilisi, 2013, (in Georgian)
Artifacts from Gonio and Tsikhisdziri, in: Medieval Ports in North Aegean and the Black Sea: Links to the Maritime Routes of the East, Proceedings of the International Symposium, Thessaloniki, 2013
The Murals of the Samochalo Church of St. George, Georgian Antiquities, 13, Tbilisi, 2009 (in Georgian, English resume)
Gelati: Architecture, Murals, Treasure, Tbilisi 2007, co-author (in Georgian and in English)
The Murals of the Sioni Church at Dmanisi, Georgian Antiquities, 7-8, Tbilisi, 2005 (in Georgian, resume in English)
Historic Portraits in the South-East Chapel of Main Church of the Gelati Monastery, Literatura da Khelovneba, 1, Tbilisi, 2001 (in Georgian)
Wall Paintings in the Chapel of Davit Narin,  Literatura da Khelovneba, 2, Tbilisi, 1999 (in Georgian)
Certain Peculiarities of the Mural Decoration in the 13th-14th cc Burial Chapels, Dzeglis megobari, 3, Tbilisi, 1999 (in Georgian, English résumé)
Images of the Mandilioni in the 12th-13th century Georgian Wall Painting, Literatura da Khelovneba, 3, Tbilisi, 1991 (in Georgian).